Oregano Oil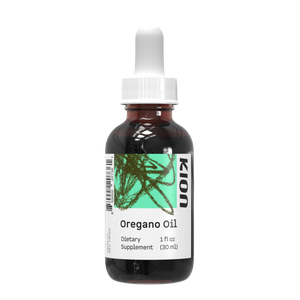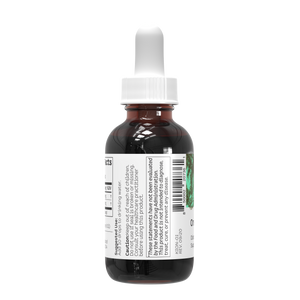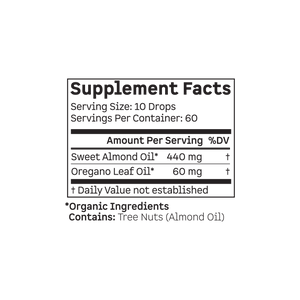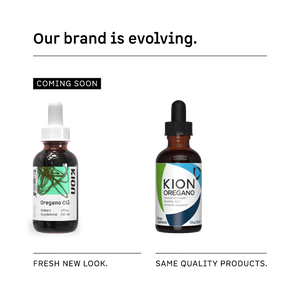 Oregano Oil
Boost your gut health with the help of an ancient herbal solution. Kion Oregano Oil is a potent extract of Wild Mediterranean Oregano, expertly blended with Moroccan Sweet Almond Oil.
Promote a healthy, balanced gut microbiome*
Support a healthy immune response and respiratory function*
Help improve your body's defense mechanisms with antioxidants & phytochemicals*
Restore Your Gut Health With This Powerful, Natural Solution
The oregano plant has been used for thousands of years in the Mediterranean as a trusted health solution.
When the oil of oregano is extracted, its healthy benefits become even more concentrated. Oregano oil's potent antioxidants and phenols can support the body's natural defenses and restore balance to your gut microbiome.
Kion Oregano Oil is a high quality, effective, and palatable oil. Our wild-crafted oregano oil is carefully blended with sweet almond oil, making it safe for daily use and long-term gut health support.
Bring balance and harmony to your microbiome with Kion Oregano Oil.
Mediterranean Oregano

Steam-Distilled to Preserve Nutrients

Always Over 80% Carvacrol Levels
Wild Mediterranean Oregano Oil Crafted With Care.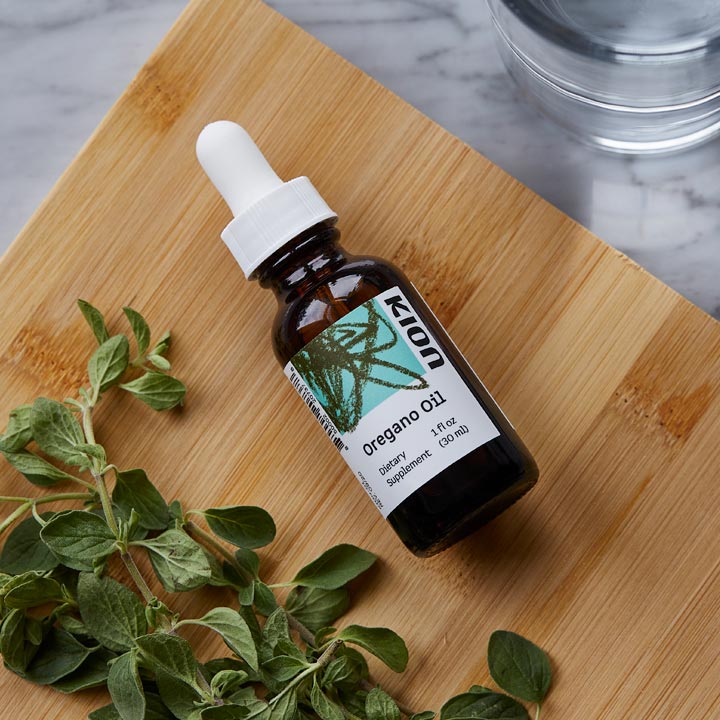 Ingredients
Organic Wild Oregano Leaf Oil
Oregano harvested from Turkey, steam-distilled to form a potent oil.
Organic Sweet Almond Oil
Moroccan sweet almond oil dilutes our powerful oregano oil at a 7:1 ratio. Perfectly safe for internal or external use.
See All Ingredients
Organic sweet almond oil, organic wild mediterranean oregano leaf oil
Questions? We have answers.
What's the best way to take Kion Oregano Oil?
We recommend taking 10 drops in a glass of water, 1-3 times per day. To ensure oregano oil destroys the bad bacteria but maintains the good bacteria, we encourage you to avoid taking oregano oil along with other bacteria rich supplements like probiotic pills or yogurt. For long term use, we recommend taking a one week break for every three weeks of oregano oil use.
Where should I store my oregano oil?
To preserve its nutrient content, store oregano oil in a cool, dry location like a cabinet or pantry.
I'm allergic to tree nuts. Can I use the oregano oil?
Since the Oregano Oil is mixed with almond oil, we cannot recommend use of this product to anyone with a tree nut allergy/sensitivity. Please make sure to double check with your physician.
I have an allergy to mint. Should I take oregano oil?
We do not recommend taking oregano oil if you are allergic to mint, sage, basil or lavender. Please make sure to double check with your physician.
Can I take oregano oil on an empty stomach or need to take it with food?
You can take oregano oil on an empty stomach or with food. It just depends on what your goals are. If you want to kill gut bacteria, take oregano oil with food. If you want to improve your immune system, take oregano oil without food.
Can I use Kion Oregano topically?
It can be used on problem skin, but avoid using on open wounds or broken skin.
What are the carvacrol levels in your Oregano Oil?
The current carvacrol levels are at 80.19%, but this varies from harvest to harvest and averages between 80.12-80.46%. We never accept oregano under 80% carvacrol levels.