Strength Bundle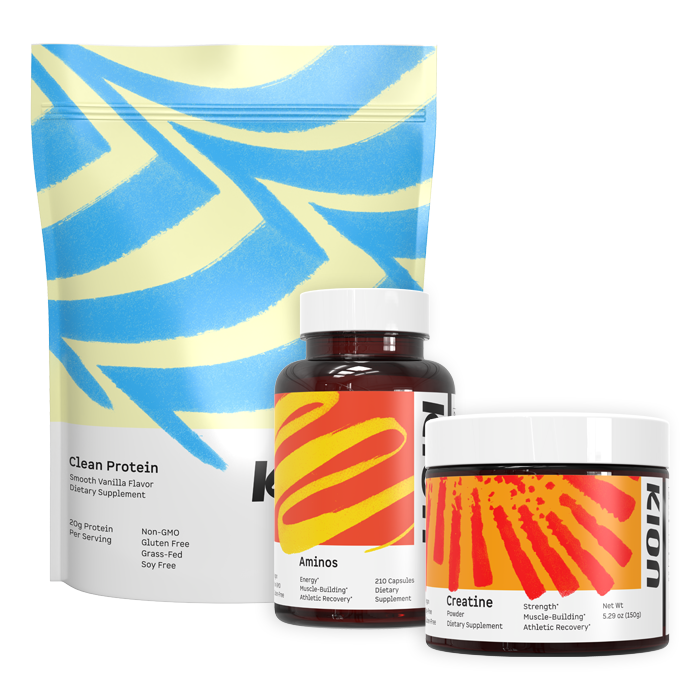 Strength Bundle
Gain lasting strength, build lean muscle, and speed up recovery for days of powerful workouts.
Contains: 
Kion Clean Protein - Smooth Vanilla (1)

Kion Aminos Capsules (1)

Kion Creatine (1)
Bundle and save 10% on your order.
The Perfect Bundle to Unlock Your Maximum Strength
Kion Creatine:
The workout fuel you've been looking for to enhance short-burst, high-intensity training. Kion Creatine is made from the gold standard of creatine, Creapure®. Its 95% bioavailable formula fuels your toughest workouts in minutes.
Kion Aminos:
The perfect pre-workout for hours of lasting energy and leaner, stronger muscles. Kion Aminos has all nine essential amino acids (EAAs) and a 40% leucine formula. High leucine EAA supplements are scientifically proven to increase muscle protein synthesis and therefore, muscle growth.
Kion Clean Protein:
A velvety, delicious whey protein powder to speed up your post-workout recovery. Clean Protein has 20 grams of complete protein to rebuild worn and torn muscles and unlock your leanest, strongest gains yet.
Science-Backed Muscle-Building Formulas

Short-Burst Energy for Powerful Performance

Rebuilds and Recovers Worn and Torn Muscles